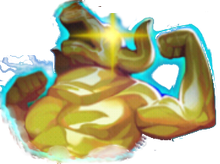 My name is Andrew though I'm most commonly referred to as Kris everywhere else. I first started playing Game of Dice during late season 1 but stopped playing early season 2. I came back during the Soccer Idol Event and have been playing non-stop since.
I'm also one of the editors attempting to revive the GoD wiki alongside the new admin GL Zander (You can find their profile here)
I can often be found in the Unofficial GoD Discord Server (𝓚𝓻𝓲𝓼#5357) chatting with other fellow duelists in my off-time
My IGN is KrispChill, feel free to add me if I happen to be online and have a slot open
My favorite pages
Edit
Community content is available under
CC-BY-SA
unless otherwise noted.