Shiver me Timbers! is a skill card that can be obtained from Premium Skillcard Draw or combining.
Selected opponent will step on opponents' property by 50% chance on next dice roll. (sic)
Selected opponent gets "Lands on opponents' property" as a debuff, and when they roll the dice, there is a 50% chance that the effect is triggered and modifies the resulting dice roll such that they land on a hostile property and pay toll.
The debuff is for one roll and will not persist over the entire turn, even if the effect is not triggered.
Strategy
Edit
Use it on opponents who have many expensive properties in front of them.
Use it to remove an active buff from an opponent, or force them to use a Dice Modifier skill card.
Use it to limit the possible rolls of the selected opponent so they cannot land on advantageous blocks.
How to Counter
Edit
Use another Dice Modifier skill card to clear the debuff.
Use Dice Control to land on a cheaper property as well as use the chance to takeover it.
The card was nerfed to 50% success instead of 100% success when released in the Skillcard draw. It was previously a 100% success rate card when it was only playable during the Pirates/Navy Event.
During the event, there was no animation for the effect activation sequence. However there is one now, and a question mark will appear above the opponent if the effect is triggered.
There was a bug where it was actually 100% chance but the card stated 50%. It is now fixed and Shiver Me Timbers! will be a 50% chance as stated.
Original Artwork
Edit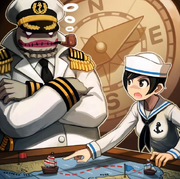 Community content is available under
CC-BY-SA
unless otherwise noted.