January 13, 2016 - February, 3, 2016
PSY Character
Edit
Two new characters were released for the PSY X Game of Dice Event. There are two variations of PSY: Daddy PSY and Gangnam PSY. The designs are based off his two popular songs, Daddy and Gangnam Style.
Daddy PSY costed $4.99 while Gangnam PSY costed $9.99. They were only available for a limited time through Premium Character Draw or purchasing it directly.
Event Details
Edit
Select the Event Map in the middle.
Lv. 1~3 Ghost Cities will be created at the start of the Match.
Event Skill Cards will be given at turn 21.
PSY Crafting materials can be obtained.
An exclusive party-themed BGM will play.

A new party Event Map with many ghost cities to take over. Party with PSY!
Try your best to aim on the Lv. 3 Ghost Cities to have an advantage early.
A red car will appear and give out PSY Crafting Materials that will be scattered on random blocks.

The first one to land on these materials will take them. You can craft unique and rare items with the PSY materials.
Event Skill Cards
Edit
On turn 21, players will get one out of four special skill cards only available in the Event Map! They cannot be used outside of this Event Map, nor can they be obtained from Premium Skill Card Draw.
| Name | Description |
| --- | --- |
| Curse | For 2 turns, selected opponent will pay extra 300% in tolls. |
| Round Trip | Make a full round trip around the map and land at the current location. |
| Big Fish | Take 2 random properties when there are less than 6 unowned properties. |
| Slow | Selected opponent will throw one dice on the next turn and it will be less than 2. |
PSY Materials
Edit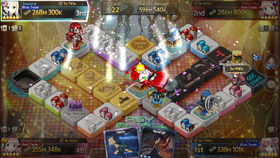 You can gain Crafting materials by landing on one of them in the Event map. A red car will scatter the materials onto random blocks. The materials can be used to create rare items like Skill Cards, Character Tickets, ETC. If you land on one during the game, the material will be sent to your mail.
Sunglasses

Bowtie

Microphone
You can view how many you have in your Dice Fragment storage. It is possible to sell them for 10 gold each.
Due to this being a promotional event, this map will never be in the Map of the Day rotation.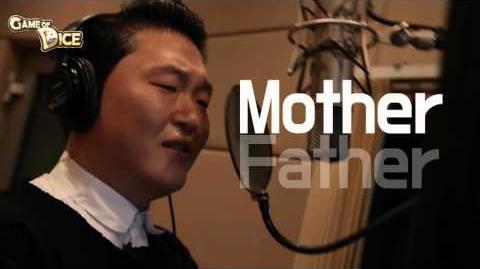 Community content is available under
CC-BY-SA
unless otherwise noted.