Ludicrous Scientist is a situationally offensive and defensive card. It can be obtained from Premium Skill Card Draw or Combine.
Change selected city's level to either 1 or 4.
In early game, you can use it offensively to level up your city to max level. In late game, you can use it defensively to drop your opponent's city to level 1.
This card randomly changes the city to a level 1 or level 4 city. You can't choose it.
Sharon is controlling a level one city in the illustration.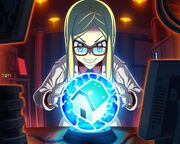 External links
Edit
Community content is available under
CC-BY-SA
unless otherwise noted.