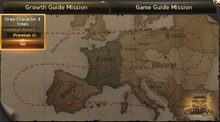 Guide Missions are step by step missions for every account that rewards players for completing tasks to grow their account and learn the gameplay.
There are two sections: Growth Guide Mission and Game Guide Mission.
Growth Guide Missions
[
]
Growth Guide Missions is the default tab, with missions that guide you to improve outside of matches (via setup improvements in Characters, Dice or Goods).
1
Draw Character 3 times
2
Upgrade Character to Lv 5
3
Character Upgrade x1
4
Draw Skill Card 3 times
5
Leave rating at Skill Card Collection
Premium Character x1
Character EXPx3 Enforcer
5,000 Gold
Platinum Skill x1
5,000 Gold
10
Enhance Dice
9
Draw Dice 5 times
8
Craft Item with gathered materials
7
Get a new Skill Card from Combine
6
Use Skill Card 5times in a Match
Premium Character x2
Music Box Dice Fragments x50
10,000 Gold
Platinum Skill x2

× 20

11
Activate Dice Effect
12
Enhance Character to Lv 15
13
Get ★5 or above Skill Card
14
Get ★4 Dice or above Skill Card
15
10,000 Gold
Character EXPx3 Enforcer

× 30

20,000 Gold
Game Guide Missions
[
]
Game Guide Missions help you in matches and encourage you to compete. It also guides you through some advanced features such as the Rankings.
1
Play by yourself at Practice Match
2
Play a match in Team Match
3
Play a match in Single Match
4
Win 1B JOY at a single Match
5
Win 3 times
3,000 Gold
Start Money Bonus x3
City Conqueror x3

× 1

5,000 Gold
10
Play Winning Streak
9
Achieve 3 daily Missions
8
Receive GP Gift
7
Add 10 Friends
6
Win in Professional Channel
20,000 Gold

× 1

10,000 Gold
Premium Character x2

× 10

11
Win in Master Channel
12
Win 10B JOY at a single Match
13
Receive

Season

Ranking Reward

14
Play Guild Match
15
Platinum Skill x2
Goods x2

× 20

Flame of Growth x 1